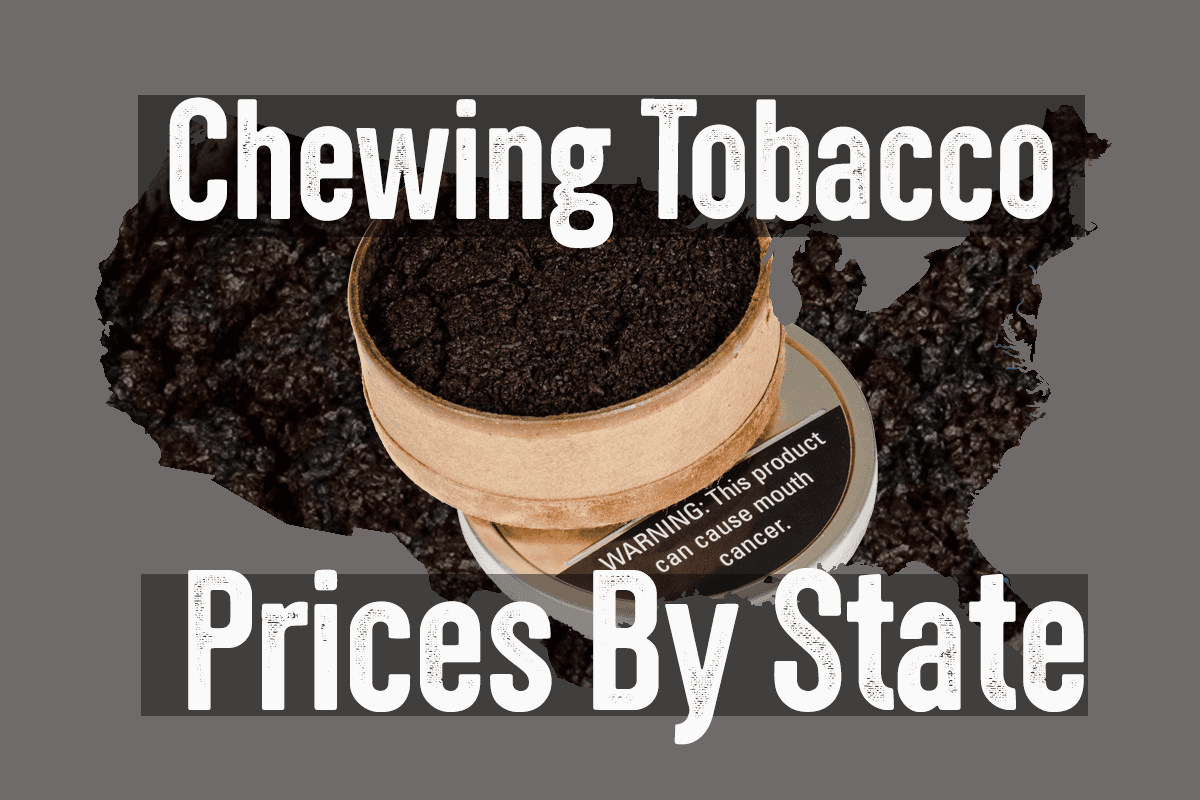 Chewing Tobacco Prices By State
Ever wondered why chewing tobacco prices vary from state to state and even by city? It's usually because of the level of tobacco tax in that location, but the cost also varies depending on the store selling it. What kind of profit are they're needing to get? And, as you know, the smokeless tobacco brand affects the chewing tobacco price.
We looked at all the different brands, shops, and locations and compiled a list of the average price of chewing tobacco by state. This is just intended to give you an average on the can cost you may see if you hit a gas station in any of these states on a road trip —and if you may want to stock up on your favorite dip before you head out or not!
How close did we get? Let us know if we're spot on, close, or way off on the chewing tobacco costs in your area.
Alaska: $3.75
Alabama: $5.00
Arkansas: $3.60
Arizona: $2.53
California: $6.50
Colorado: $3.00
Connecticut: $3.21
Washington DC: $3.45
Delaware: $2.64
Florida: $3.96
Georgia: $3.50
Hawaii: $3.64
Idaho: $3.00
Illinois: $2.91
Indiana: $2.66
Iowa: $5.00
Kansas: $4.00
Kentucky: $2.46
Louisiana: $2.85
Maine: $7.00
Maryland: $3.00
Massachusetts: $6.50
Michigan: $4.85
Minnesota: $7.00
Missouri: $2.36
Mississippi: $2.46
Montana: $5.50
Nebraska: $2.57
Nevada: $2.79
New Hampshire: $3.54
New Jersey: $2.79
New Mexico: $2.68
New York: $7.00
North Carolina: $2.42
North Dakota: $2.74
Ohio: $2.51
Oklahoma: $5.00
Oregon: $3.54
Pennsylvania: $3.32
Rhode Island: $3.86
South Carolina: $2.25
South Dakota: $2.89
Tennessee: $2.28
Texas: $6.00
Utah: $3.99
Vermont: $8.00
Virginia: $2.36
Washington: $7.00
Wisconsin: $8.00
West Virginia: $2.29
Wyoming: $5.89
Again, if you've seen different prices than what we have here, comment and let us know!
BaccOff is $2.99 per can on our website, so it's cheaper than the regular tobacco dip in most places and it won't cause health heath issues (in fact it's actually a healthy dip). Can't put a cost on health. (Even though you can see some of the costs you'll save if you quit tobaccohere)
Don't waste money on dips that cost you lots of money on insurance and dental/hospital bills. Get BaccOff's no-tobacco, no-nicotine dip and QUIT WITHOUT GIVING UP.
Check out our clinically proven program for quitting.

Here are some other popular articles about dipping:
Nicotine Withdraw Symptoms and What You Can Do About Them
Reasons to Quit Smokeless Tobacco TODAY
CHECK OUR BESTSELLERS!