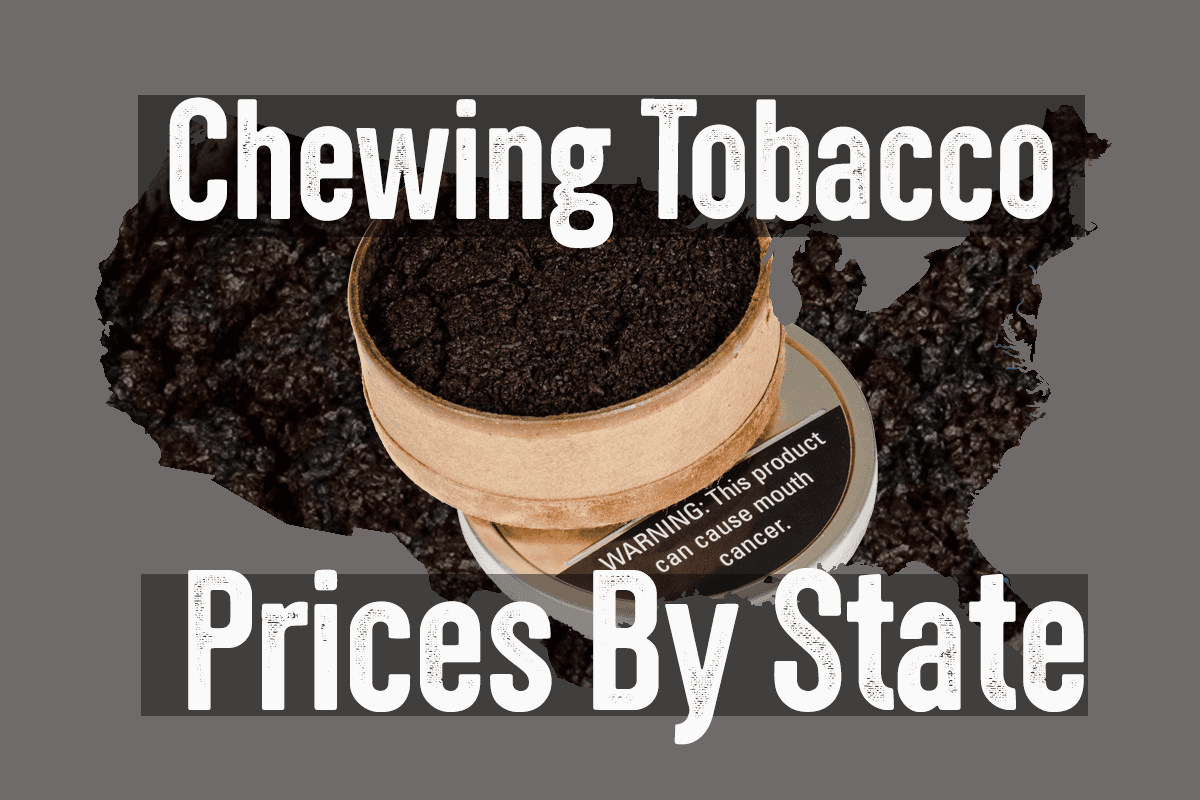 Chewing Tobacco Prices By State
Updated March 30, 2023
Dip and Chewing tobacco prices vary per state (and city) and the cost is almost always a reflection on the state's tobacco tax. And, as you know, the smokeless tobacco brand affects the chewing tobacco price.
We looked at all the different brands, shops, and locations and compiled a list of the average price of chewing tobacco by state. This is just intended to give you an average on the can cost you may see if you hit a gas station in any of these states on a road trip.
How close did we get? Let us know if we're spot on, close, or way off on the chewing tobacco costs in your area.
Alaska: $8.75
Alabama: $5.99
Arkansas: $9.25
Arizona: $7.83
California: $7.00
Colorado: $10.00
Connecticut: $8.50
Washington DC: $4.45
Delaware: $3.64
Florida: $11.00
Georgia: $4.80
Hawaii: $4.64
Idaho: $3.70
Illinois: $4.91
Indiana: $3.50
Iowa: $6.95
Kansas: $4.50
Kentucky: $3.46
Louisiana: $4.95
Maine: $7.50
Maryland: $4.00
Massachusetts: $18.50
Michigan: $5.65
Minnesota: $7.50
Missouri: $3.66
Mississippi: $3.76
Montana: $5.50
Nebraska: $4.57
Nevada: $3.89
New Hampshire: $6.80
New Jersey: $3.79
New Mexico: $5.98
New York: $7.80
North Carolina: $7.00
North Dakota: $2.94
Ohio: $6.10
Oklahoma: $5.50
Ontario: $25.50
Oregon: $7.65
Pennsylvania: $5.52
Rhode Island: $3.96
South Carolina: $6.95
South Dakota: $3.17
Tennessee: $3.88
Texas: $7.00
Utah: $7.50
Vermont: $8.20
Virginia: $4.30
Washington: $8.20
Wisconsin: $8.95
West Virginia: $3.19
Wyoming: $5.89
If you see a price that is off, leave a comment and let us know what the current, average cost of smokeless tobacco in your state.
BaccOff is $3.99 per can on our website, so it's cheaper than smokeless tobacco, and it's 100% tobacco and nicotine free.
GET A SAMPLE Pack And Try All of our Cuts and Flavors