Classic Apple Blend Pouch
$3.29 – $39.48– Subscribe and save!
Enjoy mess-free satisfaction with BaccOff Classic Apple Tobacco Flavored Pouches. They're REAL AS IT GETS in flavored tobacco free pouches. Made with some of the most advanced moist snuff pouch production technology the market has ever seen.
Top Flavor Notes: Crisp, refreshingly sour Apple & Dark, fire-cured Tobacco
Description
Flavored Tobacco Less Dip: Apple Tobacco Flavor Rivals Real Dipping Tobacco
If you are looking for how to stop chewing, and enjoy the sweet kick of apple tobacco or flavored tobacco, then try BaccOff Apple Blend Pouches. You'll love them because all BaccOff Products are authentic tobacco less dip alternatives to dipping tobacco. That's why BaccOff Apple Blend Pouches have the taste and feel of real smokeless tobacco pouches.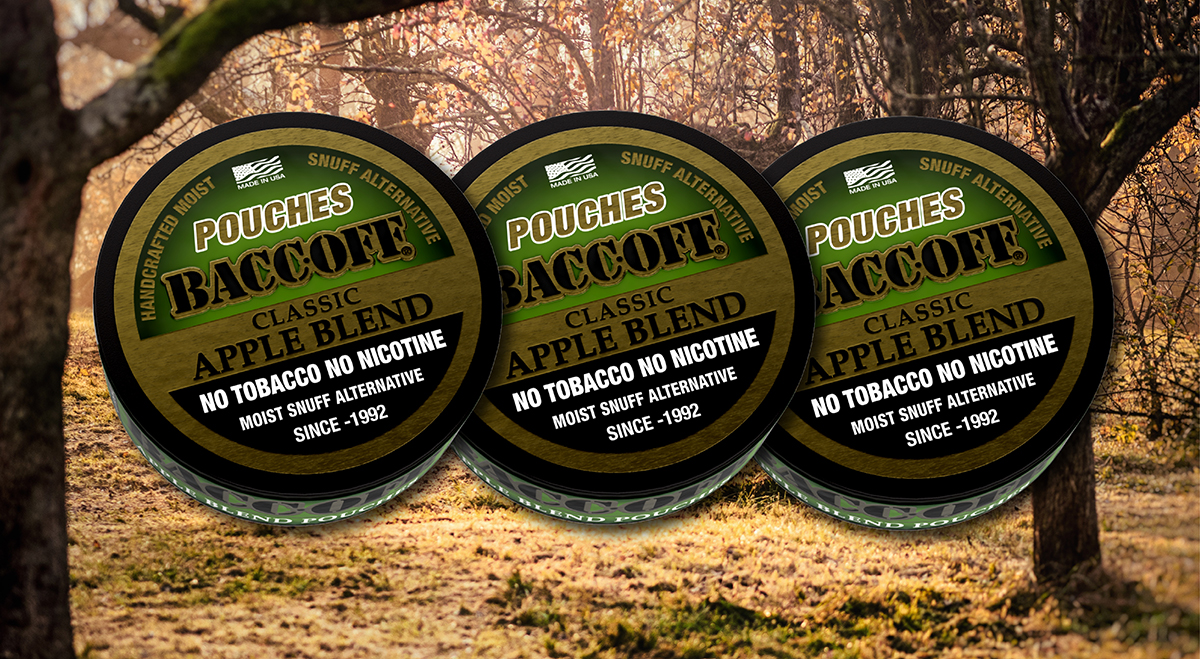 BaccOff Apple Blend is for you:
If you are looking for how to stop chewing
You like apple tobacco flavored pouches or fruit-flavored tobacco products
You're looking for a tobacco less dip and want it to taste like the real thing
If you want to break free from addiction—and get to keep dipping!
Here at BaccOff, we have made it our mission to provide tobacco-less dip substitutes that are REAL AS IT GETS. Most importantly, we know the taste, the texture, the look—even the spit—are as important to a dipper as the nicotine craving. So, since 1992, we have been handcrafting moist snuff alternatives. We want to help dippers. Even more, we work to help you find out how to quit chewing without giving up.
Why BaccOff Apple Blend Pouches are the "How to Stop Chewing?" answer for you:
Superior Pouches: First of all, did you know BaccOff is the original Moist Pouch Tobacco Less Dip Alternative? Yep, we did it first. Even more importantly, we did it right. And, we are committed to continuing to maintain excellence. Therefore, over the last 2 years, we have completely redesigned and rebuilt our pouch production line, so we can keep giving you the best. This is good news for fruit flavored tobacco lovers. And its good news for traditional flavored tobacco pouches users too! Every time you enjoy BaccOff pouches, you taste one-of-a-kind, patent pending superiority.
Real Taste: BaccOff Apple Blend Pouches are the most realistic in fruit-flavored tobacco alternative the market has ever seen. This is because we took our time to develop all new flavorings for all BacOff Classic Pouches. And Apple Blend is no exception. Developed completely in house, our team took the time to test hundreds of flavors. And so, after nearly a year of development, BaccOff is proud to offer you the best fake smokeless tobacco less dip there is. Now you finally know how to stop chewing.
Use BaccOff flavored tobacco less dip, so you can enjoy the satisfaction of dipping without any of the harmful side effects of chewing tobacco.
If you like trying dips with different flavors that traditional moist snuff, then you may also like our Mocha Fine Cut Coffee Chew!
BaccOff is the safe smokeless tobacco alternative. 100% Non-Tobacco Non-Nicotine Moist Snuff Alternative that's As Real As It Gets. Learn more about our product on our About Us Page.
SERIOUS ABOUT QUITTING TOBACCO?  PROVE IT AND JOIN OUR TRIED AND TRUE BACCOFF PROGRAM
Ingredients
Tea Leaves
Glycerin
Natural & Artificial Flavors
Water
Bakers Ammonia
Sodium Carbonate
Sodium Benzoate
Caramel Coloring
Sugar
Salt
Vinegar
About BaccOff
BaccOff is the safe smokeless tobacco alternative. 100% Non-Tobacco Non-Nicotine Most Snuff Alternative
We proudly serve thousands of long-term repeat customers who have successfully been able to stop dipping.