Original Fine Cut
$3.99 – $47.88– Subscribe and save!
Pack a lip of BaccOff Original Fine Cut for a natural flavored, tobacco free chew. (aka if you're trying to quit Copenhagen.)
Flavors: Bold, Natural Smokey Tobacco & Classic, Premium Tastes
Subscriptions get 5% OFF
Description
BACCOFF ORIGINAL FINE CUT: TRIED AND TRUE TOBACCO FREE CHEW
In short, our Original Fine Cut is THE Tobacco free chew for dippers who want to quit Copenhagen type chewing tobacco. If you're searching for premium-quality chewing tobacco taste, BaccOff Original boasts a smoky, original snuff flavor and a traditional fine cut texture.
If you're trying to quit Copenhagen flavored dips and prefer pouches, then check out our Classic Natural Pouches for another moist pouch alternative that has smoky, original snuff flavors too! Also, if you're looking for a tobacco free chew straight flavor more similar Skoal, try our Classic Straight Pouches.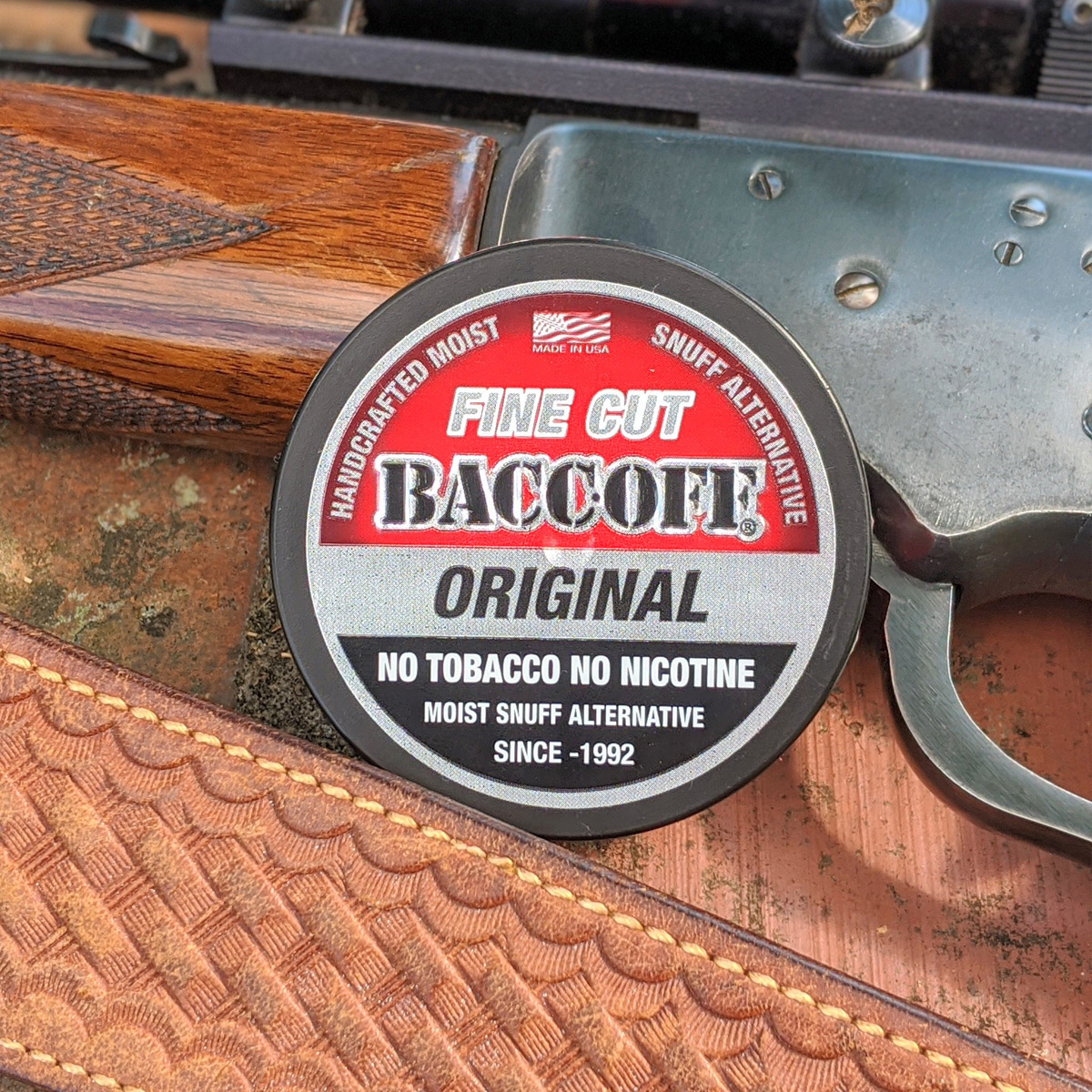 Why You Should Choose BaccOff Original:
Thousands of dippers looking to quit natural tobacco flavors like Copenhagen are now long-term repeat customers
The texture of this tobacco-free chew is REAL AS IT GETS to a traditional Fine Cut
BaccOff gives you the satisfaction of chewing tobacco to help you quit dipping
You can also get our Original Fine Cut tobacco-free chew in ENERGIZED
Our Original Fine Cut has bold, smokey tobacco snuff notes of classic chewing tobacco.
REAL AS IT GETS: Chewing Tobacco Alternatives
BaccOff Moist Snuff alternatives feel like you're really getting to dip chewing tobacco without any of the harmful side effects. We know that the look of the can, the pack, the pinch, the spit are all as important as the taste. Unlike many herbal chewing blends, BacOff produces the amber liquid desired by most dippers. Moreover, we don't rely on molasses or heavy syrups to create cheap imitations. BaccOff has the spitability a realistic moist snuff should have. Spitting is preferred by most dippers, but it is safe to swallow with BaccOff too.
Quit Copenhagen or Other Dips Without Giving Up
Chances are, you're here because you want to quit dipping. But you also want to swap to a tobacco free chew instead of giving up using moist snuff. If you're looking for a chewing tobacco alternative that has the natural flavors like Copenhagen snuff, BaccOff Original Fine Cut is for you. But don't worry, we have a lot of other flavored tobacco free chews too. We also have products many people find help with nicotine withdrawals. And, most importantly, we can help you find the best way to quit dipping.

Serious about quitting tobacco?  Prove it and join our Quit DIPPING BOOTCAMP.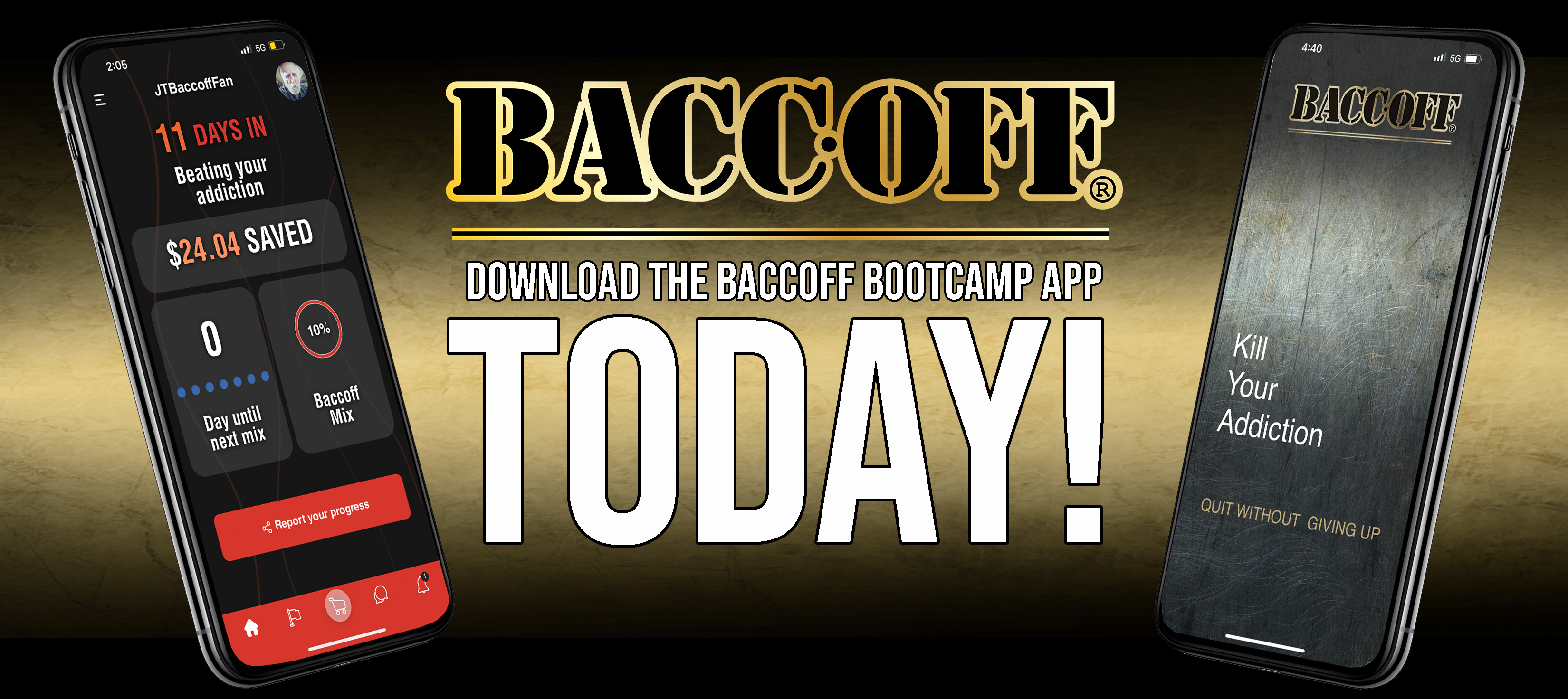 Ingredients
Tea Leaves
Sugar
Natural & Artificial Flavors
Glycerin
Salt
Water
Caramel Coloring
Sodium Benzoate (to assure flavor)
About BaccOff
BaccOff is the safe smokeless tobacco alternative. 100% Non-Tobacco Non-Nicotine Most Snuff Alternative
We proudly serve thousands of long-term repeat customers who have successfully been able to stop dipping.