Sample Pack
$5.99
Sample pack of all 16 of our no tobacco, no nicotine dips (pouches, fine cuts and rough cuts).
Description

Get $5 off your next order!
Every sample pack contains a coupon for $5 off your next order of $40 or more.
IF YOU WANT TO BUY MORE THAN ONE SAMPLE PACK, CONTACT US
what's in the Sample Pack
Energized Wintergreen Fine Cut – BaccOff ENERGIZED Extra Wintergreen is a no tobacco chew for dippers looking to quit smokeless tobacco and take extreme refreshment over the edge. This natural Energy booster gives you bold satisfaction and a kick of energy.
Extra Wintergreen Fine Cut – Made for dippers looking for a fine cut with extreme wintergreen refreshment.
Classic Wintergreen Pouches – Look no further than BaccOff Wintergreen Pouches for the best way to quit chewing. These tobacco-free pouches give you the best there is for authentic, realistic  wintergreen tobacco taste and satisfaction.
Original Wintergreen Rough Cut – Looking for a mint leaf chew so you can quit dipping long cut? Pack a lip of BaccOff Original Wintergreen Rough Cut for a mint leaf chew that lets you quit dipping without giving up what you love.
Original Fine Cut – Pack a lip of BaccOff Original Fine Cut for a Natural flavored chewing tobacco. (if you're trying to quit Copenhagen.)
Energized Original Fine Cut – BaccOff Original ENERGIZED is the only energy dip that gives you the satisfaction of dipping AND the kick of an energy drink. It has the same flavors as our Original Fine Cut, so its most like Copenhagen in taste and texture.
Original Mint Rough Cut –  Grab a can and enjoy an authentic mint chewing tobacco taste and texture with the longer, broader cut of our rough cut.
Classic Mint Pouches –   An authentic mint flavored tobacco taste beyond compare.
Classic Natural Pouches –  If you love the taste of premium quality, dark-fired and cured natural tobacco, you'll love BaccOff Natural Pouches.
Classic Straight Pouches – Pack a couple of BaccOff Straight Pouches for smoky, original snuff tobacco flavors.
Smooth Peach Pouches – If you enjoy a peach dip (like Skoal Peach), or if you like sweet peach tea, you'll love our Smooth Peach Pouches.
Classic Apple Blend Pouches – Top Flavor Notes: Crisp, refreshingly sour Apple & Dark, fire-cured Tobacco
Wintergreen Coffee Pouches -A rich, dark, perfectly balanced blend of refreshing wintergreen and robust coffee
Carmel Coffee Pouches – Buttery sweet caramel blended with a dark, satisfying coffee roast
Mocha Coffee Pouches – Dark, creamy chocolate mixed with a sweet, smooth coffee blend
Vanilla Coffee Pouches -Sweet, satisfying pure vanilla bean flavor with undertones of bold coffee and cream
If you're serious about quitting tobacco, download our Quit Dipping Bootcamp App.
The app will walk you through every step of the quitting process, as well as track your progress, set milestones, and give rewards. There is also a live chat function so you can get motivation from others who are fighting the same battle.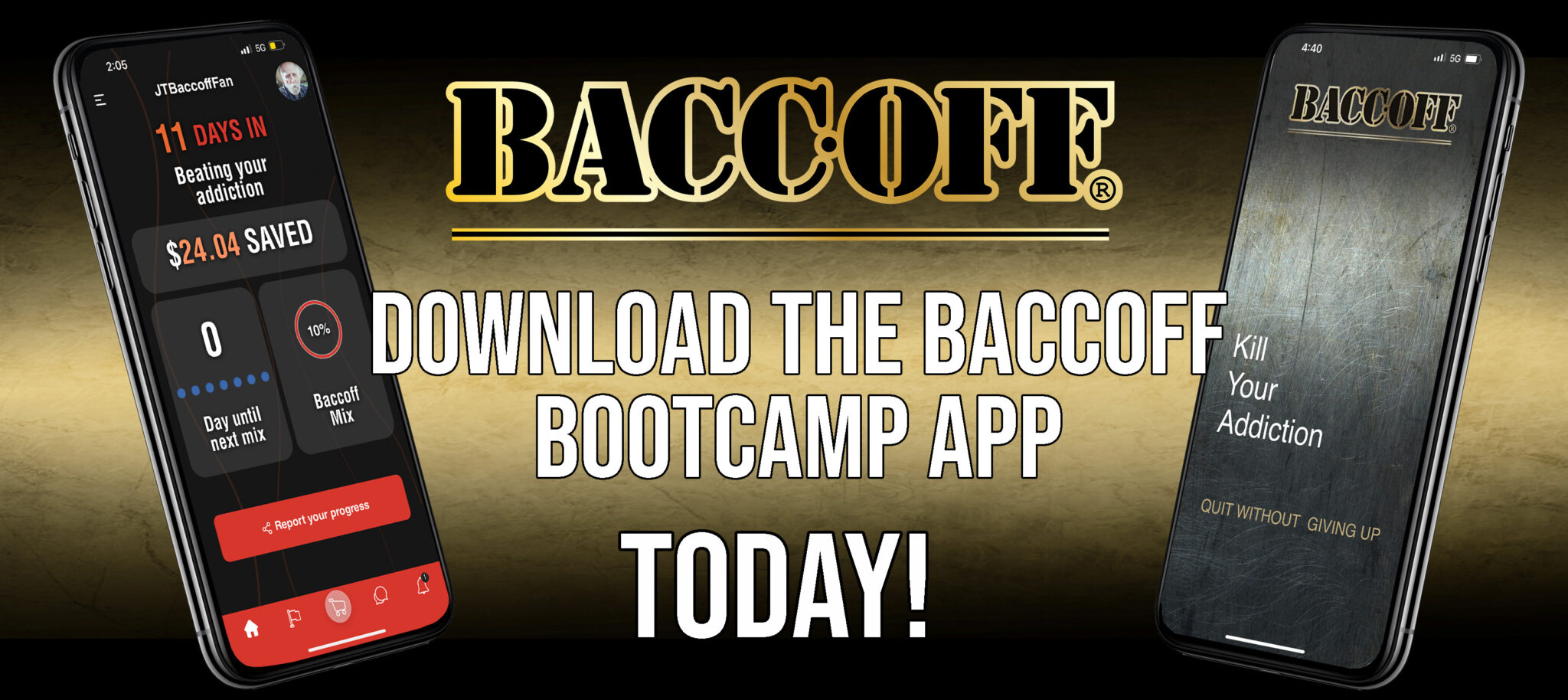 About BaccOff
BaccOff is the safe smokeless tobacco alternative. 100% Non-Tobacco Non-Nicotine Most Snuff Alternative
We proudly serve thousands of long-term repeat customers who have successfully been able to stop dipping.