Original Wintergreen Rough Cut
$2.99 – $35.88– Subscribe and save!
Looking for a mint leaf chew so you can quit dipping long cut? Pack a lip of BaccOff Original Wintergreen Rough Cut for a mint leaf chew that lets you quit dipping without giving up what you love.
Flavors: Mild, refreshing wintergreen tobacco taste
Description
BaccOff Original Wintergreen Rough Cut: Tried and True Mint Leaf Chew
BaccOff Wintergreen Rough Cut is a time-tested mint leaf chew and  a long-time standard of enjoyment. Our Mint leaf chews and sip alternatives have helped thousands of dippers quit dipping long cut and other smokeless tobacco products. This mint leaf chew's mild, pleasant, refreshing wintergreen taste gives dippers the familiar satisfaction a premium dip should have.
Original Wintergreen is one of our original products, and after 25 years, it continues to remain on of our best-sellers. For dippers looking to quit dipping long cut without giving up what they love, look no further than our Wintergreen Rough Cut.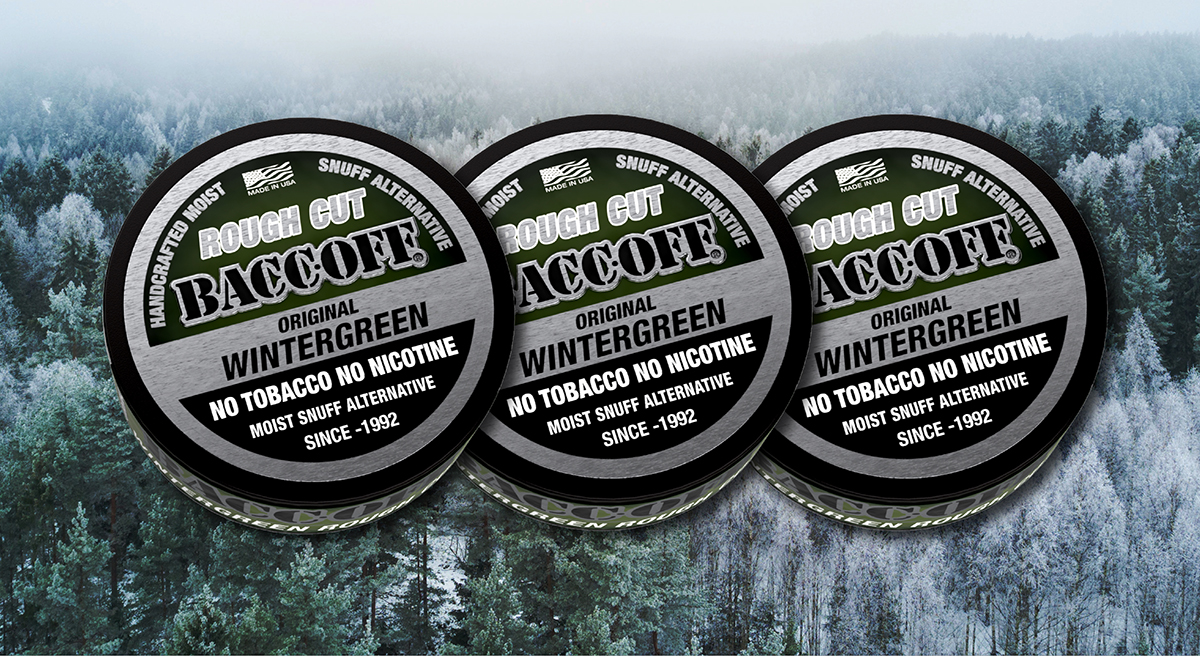 Why use BaccOff Mint Leaf Chew and Dip Alternatives
REAL AS IT GETS
Real Taste: All BaccOff dips are REAL AS IT GETS. Our Mint Leaf Chews no exception. BaccOff Rough Cuts, also available in Mint, give you more than just a mint snuff alternative. Our rough cuts offer the complex and satisfying tastes of refreshing and pure mint or wintergreen, and earth tobacco. We handcraft each batch of our Mint leaf chew to ensure you get the best taste there is.
Real Texture: Many people ask: "What's Rough Cut mean?" Well, just that. Made from a peppermint leaf base, our Rough Cuts are our Mint leaf chew option. With a longer, broader cut (most similar to Hawkens or Kodiak dip), we went with the name rough cut. Though not a true long cut, thousands of dippers use our Rough Cut to stop dipping long cut successfully.  So you can have a more satisfying dipping experience with BaccOff than with another mint leaf chew. Our well-balanced recipe and batching techniques makes our mint leaf chew texture similar to Hawkens or Kodiak dip. If fine cut or pouches are more your style, check out all of our BaccOff products here.
Real Enjoyment: BaccOff Moist Snuff alternatives give you the enjoyment of a true dipping experience. We know that the look of the can, the pack, the pinch, the spit are all as important as the taste. Unlike many herbal chewing blends, BacOff produces the amber liquid desired by most dippers. Moreover, we don't rely on molasses or heavy syrups to create cheap imitations. BaccOff has the spitability a realistic moist snuff should have. Most dippers prefer spitting, but you can safely swallow BaccOff too.
Quit Dipping Long Cut
Chances are, you're here because you've tried to quit dipping…. and still haven't quit dipping. But its time. And you really want to quit dipping. Well, good news: You've come to the right place.
BaccOff  helps reduce the stress of nicotine withdrawal. Because dipping is a lifestyle, not simply and addiction, trying to quit dipping cold turkey can seem almost impossible. But with BaccOff Mint leaf chews and dip alternatives, you can enjoy the taste and feel of dipping without any of the harmful side effects of smokeless tobacco.
Quit Dipping without Having to Stop Dipping
BaccOff is the best way to quit dipping for dippers who want to quit without giving up. At BaccOff, we believe dipping can be an enjoyable lifestyle WITHOUT the negative and life-threatening effects of smokeless tobacco. That's why we've been handcrafted moist snuff alternatives since 1992. Because we believe dippers shouldn't have to give up the enjoyment of dipping when they quit dipping smokeless tobacco.
So order a can of BaccOff mint leaf chew or our other dip alternatives, and quit tobacco without having to quit dipping.
BaccOff is the safe smokeless tobacco alternative. 100% Non-Tobacco Non-Nicotine Moist Snuff Alternative that's As Real As It Gets. Learn more about our products on our About Us page.
Serious about quitting tobacco?  Prove it and join our tried and true BaccOff Program
Ingredients
Peppermint Leaves
Water
Salt
Natural & Artificial Flavors
Glycerin
Caramel Color
Potassium Sorbate (to assure flavor)
About BaccOff
BaccOff is the safe smokeless tobacco alternative. 100% Non-Tobacco Non-Nicotine Most Snuff Alternative
We proudly serve thousands of long-term repeat customers who have successfully been able to stop dipping.